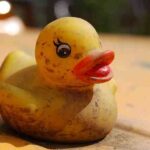 Mucky Ducks is our "stay and play" parent and toddler group. It's for pre-school aged children and their carers (not just parents!) on Wednesday mornings in term time. Mucky Ducks costs 50p each week.
Due to COVID, Mucky Ducks will now be from 9:15am to 10:30am and you will need to book in. We will not be able to provide refreshments, so please provide a drink for your own child. We will be following Government guidance to operate social distancing and all adults should be wearing masks (unless exempt) and we will be closing at 10:30am instead of 11:00am.
To book in, use the form below or contact Marlene on 07862 479291 or email Marlenebrooker@icloud.com Any details you send us will be used only to contact you about your Mucky Ducks booking.