We love to welcome students to Canley Community Church! Quite a few of our congregation were students at Warwick University, so we know a little bit what it's like to look for a church where you're really welcomed by everyone.
Join us on Sundays for the "Young Adults" group – contact Danny Yen on 07446 773912 for more information on what is happening.
We have a place for students who want to get involved in the activities of the church, whatever gifts you have. You could join with us in:
Breakfast @9:30 – a very different style of service that includes food, fun and families getting to know a bit more about Jesus. You could help with setting up or running the service.
Music – playing in church services on a Sunday, but we also have a choir for special events in the year.
Helpers – we do community projects like cleaning up overrun gardens etc.
Church Cafe – every Thursday and Friday in the church building – would you like to volunteer to serve food and drinks?
Vulnerable people – we have a number of works working with older people and adults with learning difficulties which require lots of volunteers (you may need to have a DBS check)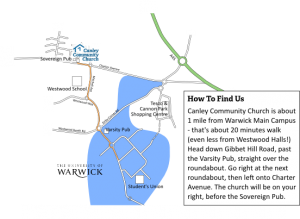 You'll be able to get support from ex-Warwick students who have experienced the challenges of University life and good teaching from different preachers each week in the services. We also have a long tradition of inviting students for lunch on Sundays.
The church is just a short walk from the main campus of the University of Warwick – about a mile, 20 minutes walk for most people (it's even closer to Westwood Campus). There's a map you can download, or find us on google maps.