We love to welcome students to Canley Community Church! Quite a few of our congregation were students at Warwick University, so we know a little bit what it's like to look for a church where you're really welcomed by everyone.
The best way to get in touch and get involved is to use the contact form or get in touch on our Facebook page – Danny or Katia will get back to you.
We have a place for students who want to get involved in the activities of the church, whatever gifts you have. You could join with us in: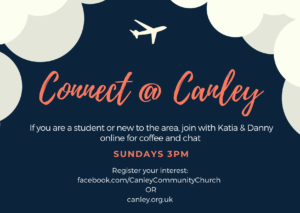 Music – playing in church services on a Sunday, but we also have a choir for special events in the year.
Church Cafe – every Thursday and Friday in the church building – would you like to volunteer to serve food and drinks?
Vulnerable people – we have a number of activities working with older people and adults with learning difficulties which require lots of volunteers (you may need to have a DBS check)
You'll be able to get support from ex-Warwick students who have experienced the challenges of University life and good teaching from different preachers each week in the services. We also have a long tradition of inviting students for lunch on Sundays.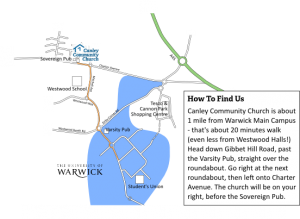 The church is just a short walk from the main campus of the University of Warwick – about a mile, 20 minutes walk for most people (it's even closer to Westwood Campus). There's a map you can download, or find us on google maps.
Our services are online and (from 4th October) in the building each Sunday at 11am. You can book in to a service or watch online.