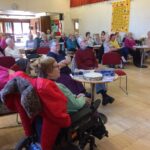 CAMEO (Come And Meet Each Other) meets for an hour on Wednesday afternoons from 1.45pm. We sing hymns, pray and share our needs, read the Bible and listen to a speaker, not forgetting a cup of tea and meeting friends. Any age welcome but we tend to be older people. We enjoy a trip out in the summer and a lovely Christmas dinner, also an occasional Singalong and visit from the retirees Salvation Army Band. Come and give us a try – you will find a warm welcome.
The photograph shows one of our special Singalong afternoons when we invite friends.
Obviously, we haven't been able to meet for the last year due to COVID 19 but we are hoping to meet for Afternoon Tea on July 7th. If you are not a regular, please book in for the Tea by ringing Margaret on the number below.
More details from Margaret Oliver on 02476 465616.